Step Into Maude Pion's Montreal Home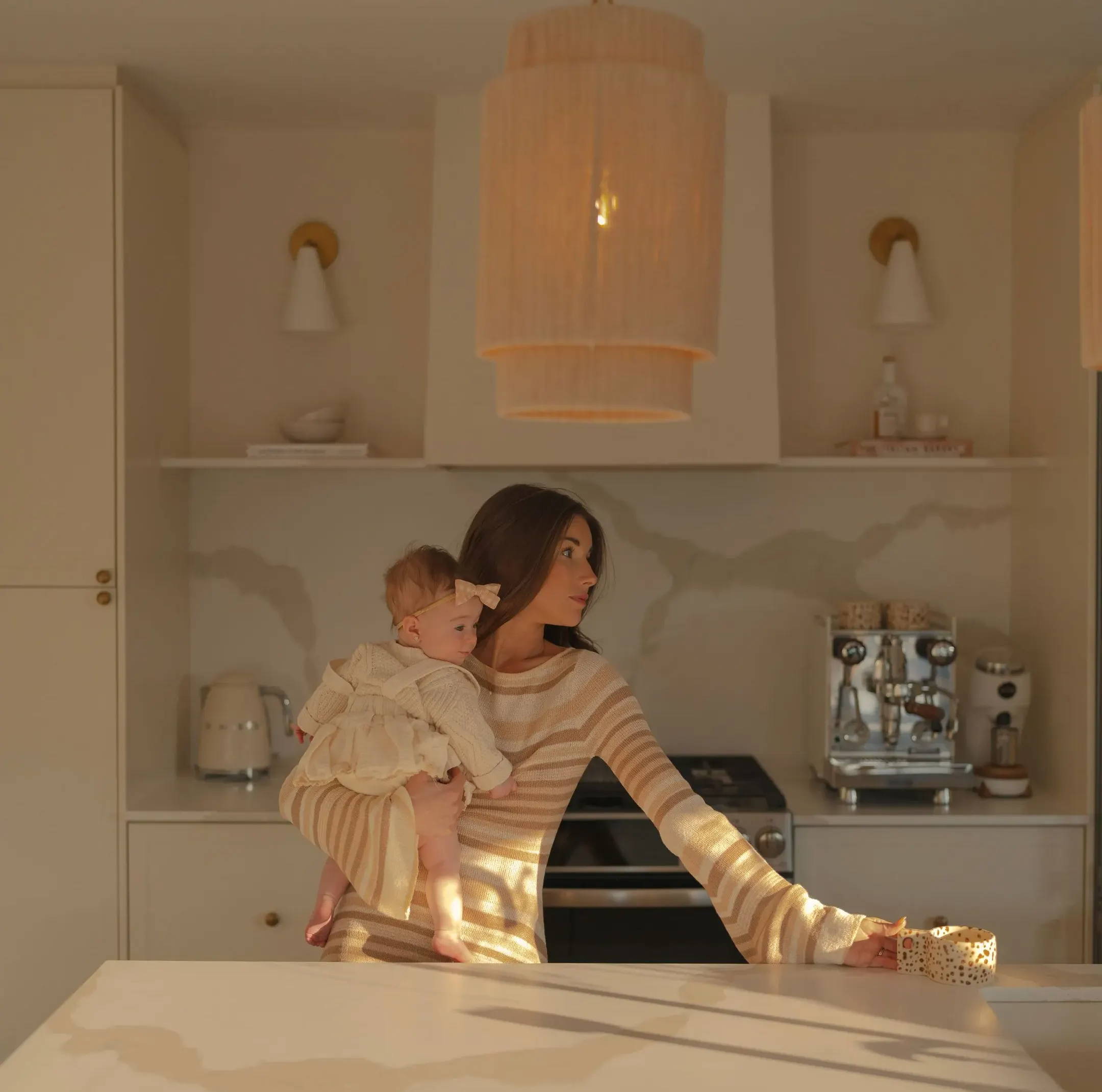 Get To Know Interior Designers Amanda & Samantha Of M Studio

This Mother and Daughter duo with alove for all things tidy
Maude Pion
Paralegal, Content Creator & Mother
Maude and her husband bought their home in 2018 and have been making it their own ever since. The goal has been to create a relaxed European countryside vibe with cozy minimalism. They want people to feel welcome and at home in their space and have made a beautiful home along the way.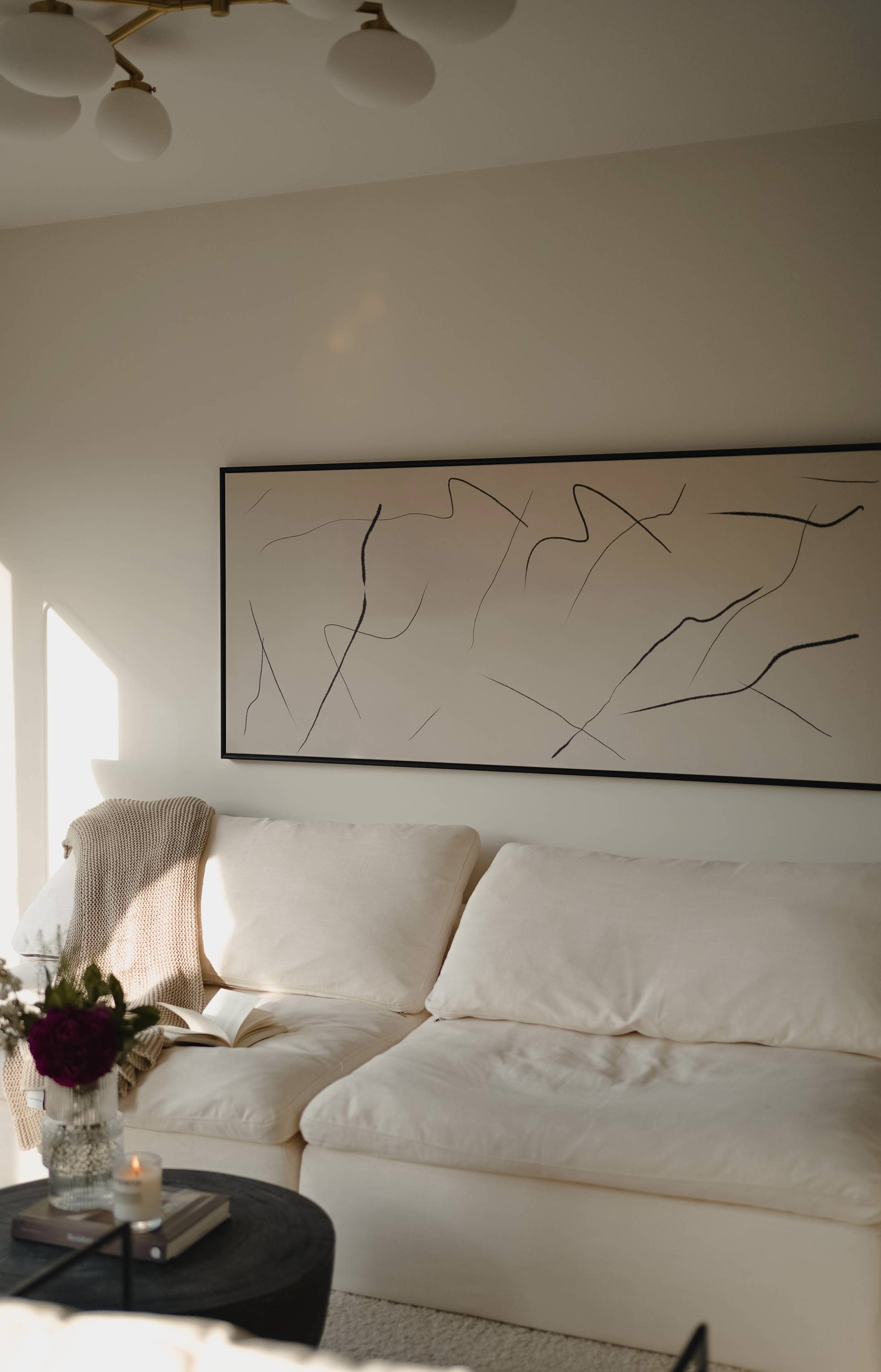 Maude settled into her home with her husband and has been making it her own since then. With the newest addition to their family on the way (Baby Sofia ❤️), Maude has been working to add some finishing touches to their home and decorate the perfect nursery for their bundle of joy. She would describe her decor style as minimalistic, and cozy, with a hint of zen which we can see with the warm neutral colour palette she uses and clean lines throughout their living spaces.
Join us on a tour through their home home decorating adventure! From French Country kitchens to Newborn Nurseries, Maude has been busy this year!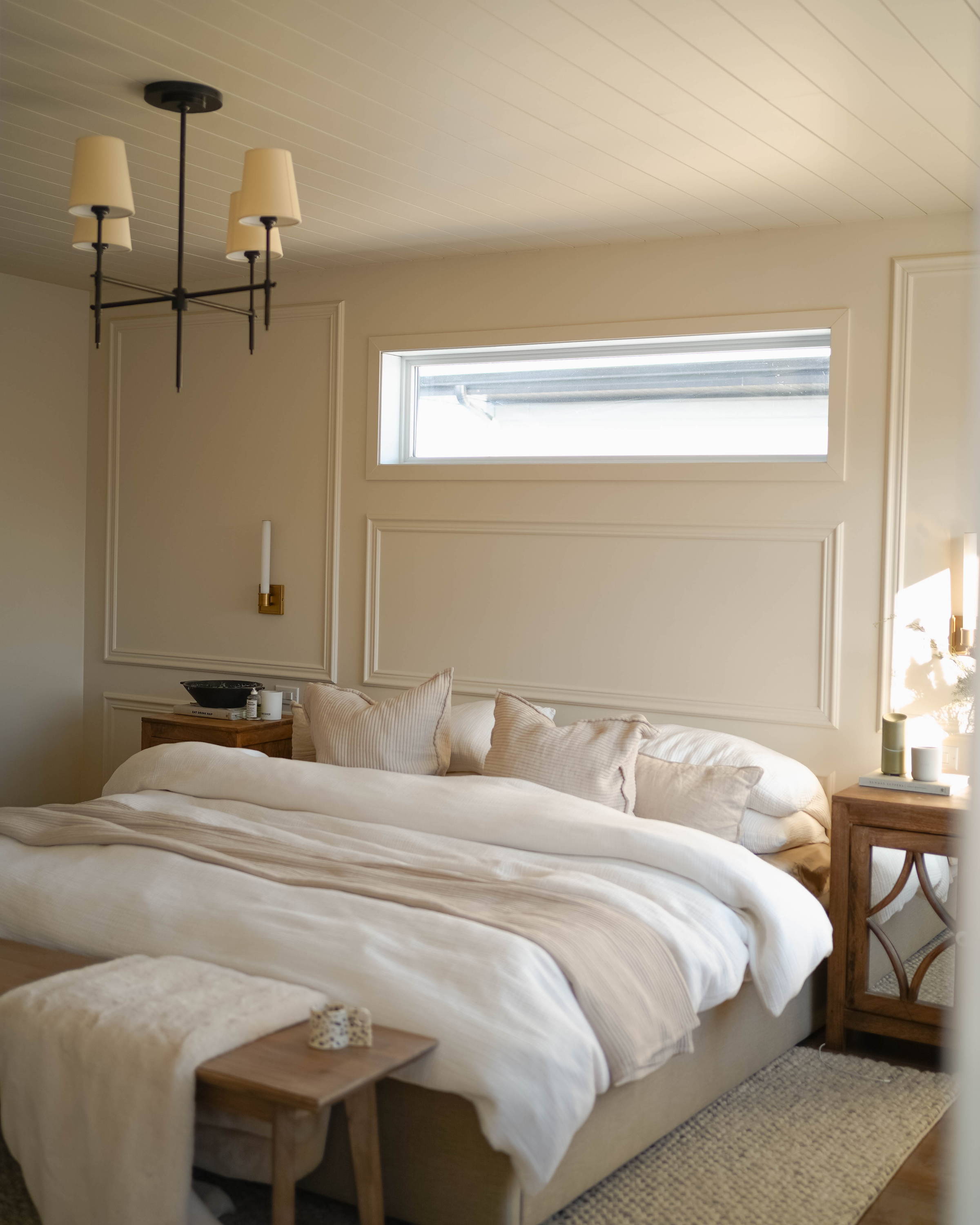 Maude has chosen our Bryant Chandelier by Visual Comfort for her primary bedroom. This chandelier is a stunning piece that adds a touch of elegance and sophistication to any room. Its design is both modern and timeless, making it a perfect fit for any decor style. With its ability to magnificently light up any room in the home, it creates a warm and inviting ambiance that is both modestly beautiful and functional.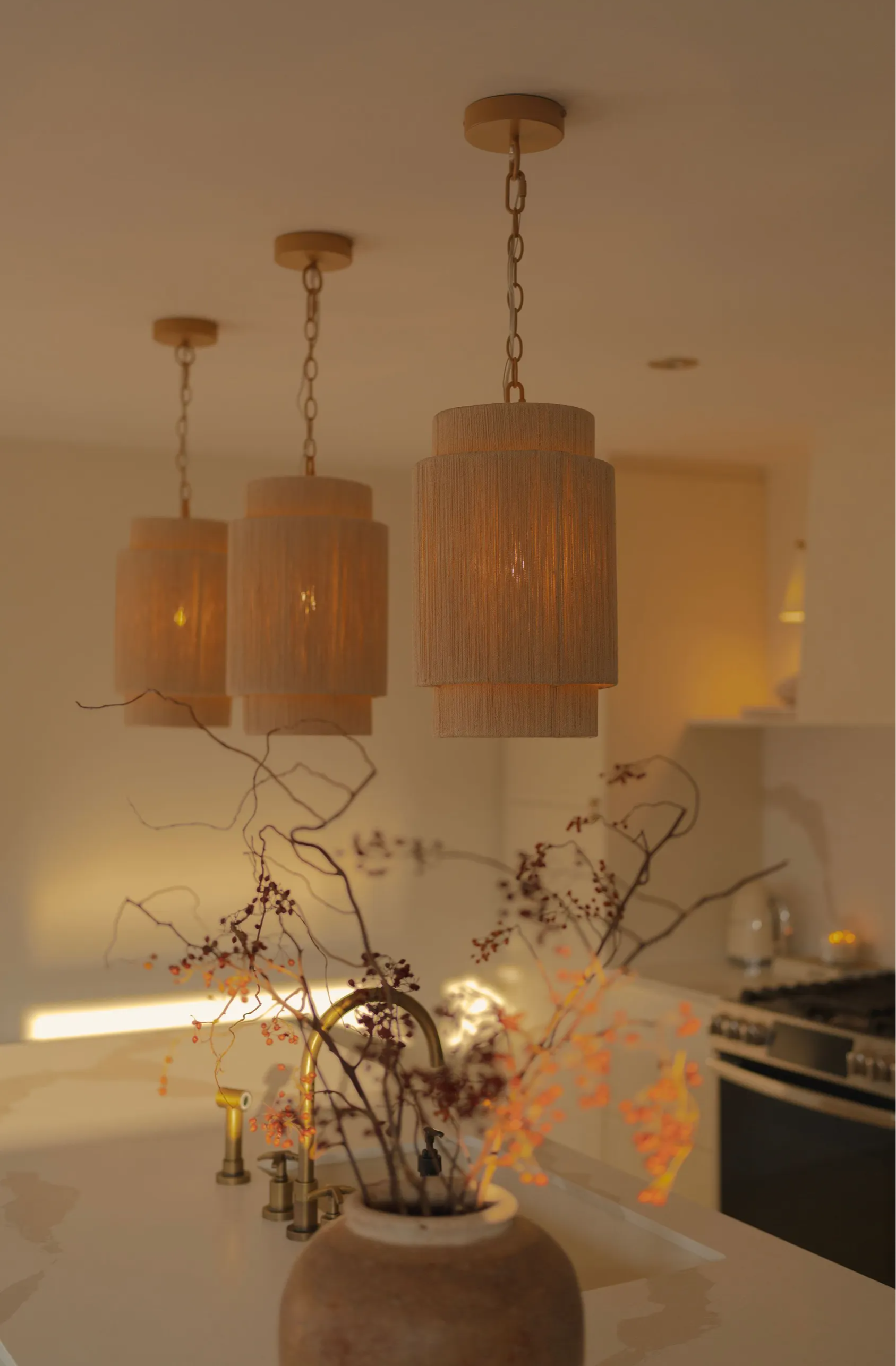 Featuring our Oakland Wall Sconce by Arteriors and Everly Pendants by Palecek. Maude's kitchen showcases neutral colors, marble walls, and botanical motifs. On it's way to a stunning French farmhouse style that plays upon the contrast of dramatic details.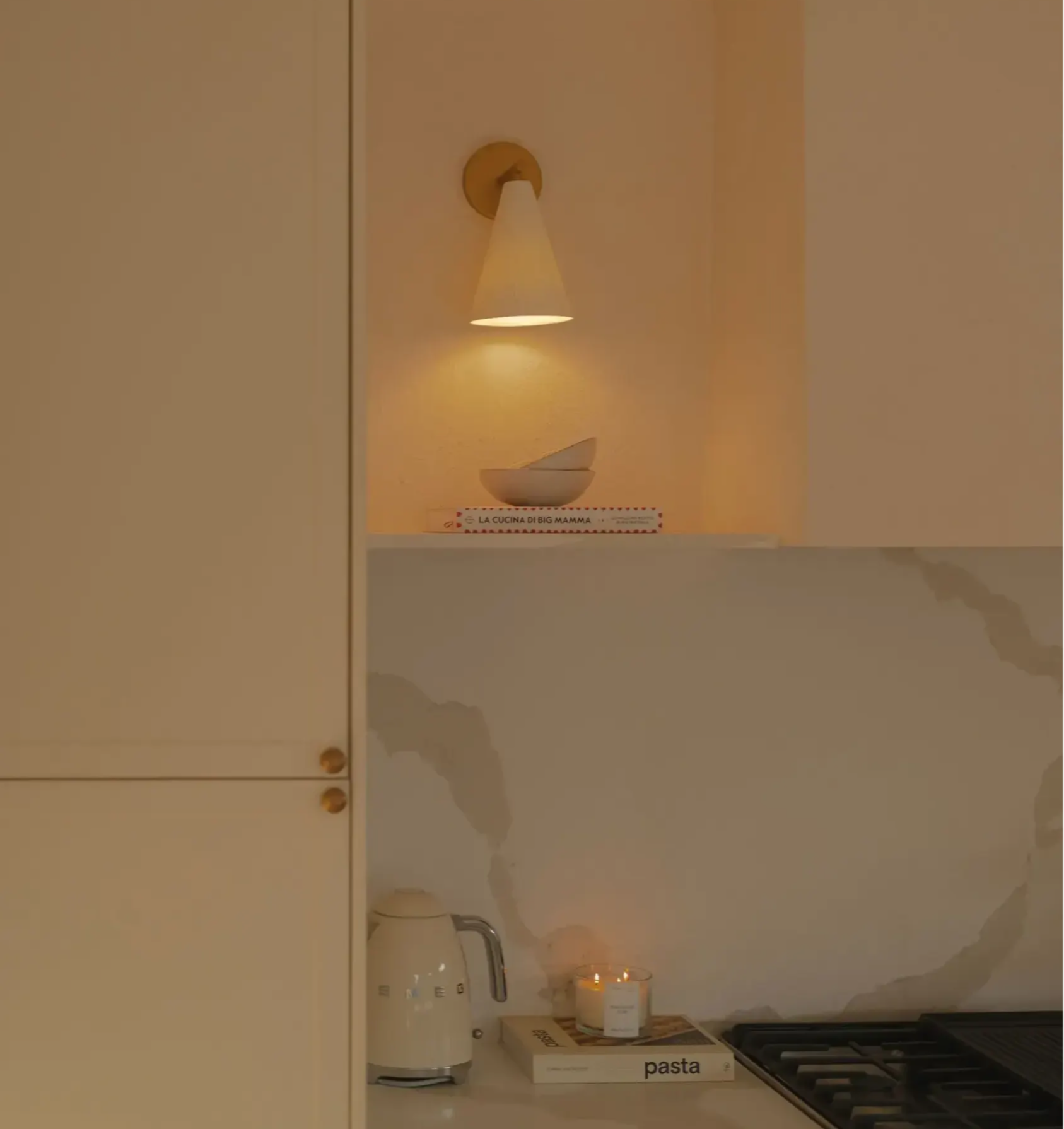 The use of natural materials and open spaces create a welcoming gathering place for hosting with friends, or cozy cooking on nights in. The open shelving and farmhouse sinks give it a classic style, while vases full of fresh flowers, distressed wood and stone give it a French twist.
The wall sconces embody simple elegance with their functional, streamlined design, while the pendants allow for a natural flow and texture with the beauty of natural elements. With hand-woven details, the Everly Pendants are a stunning additon new to Maude's kitchen.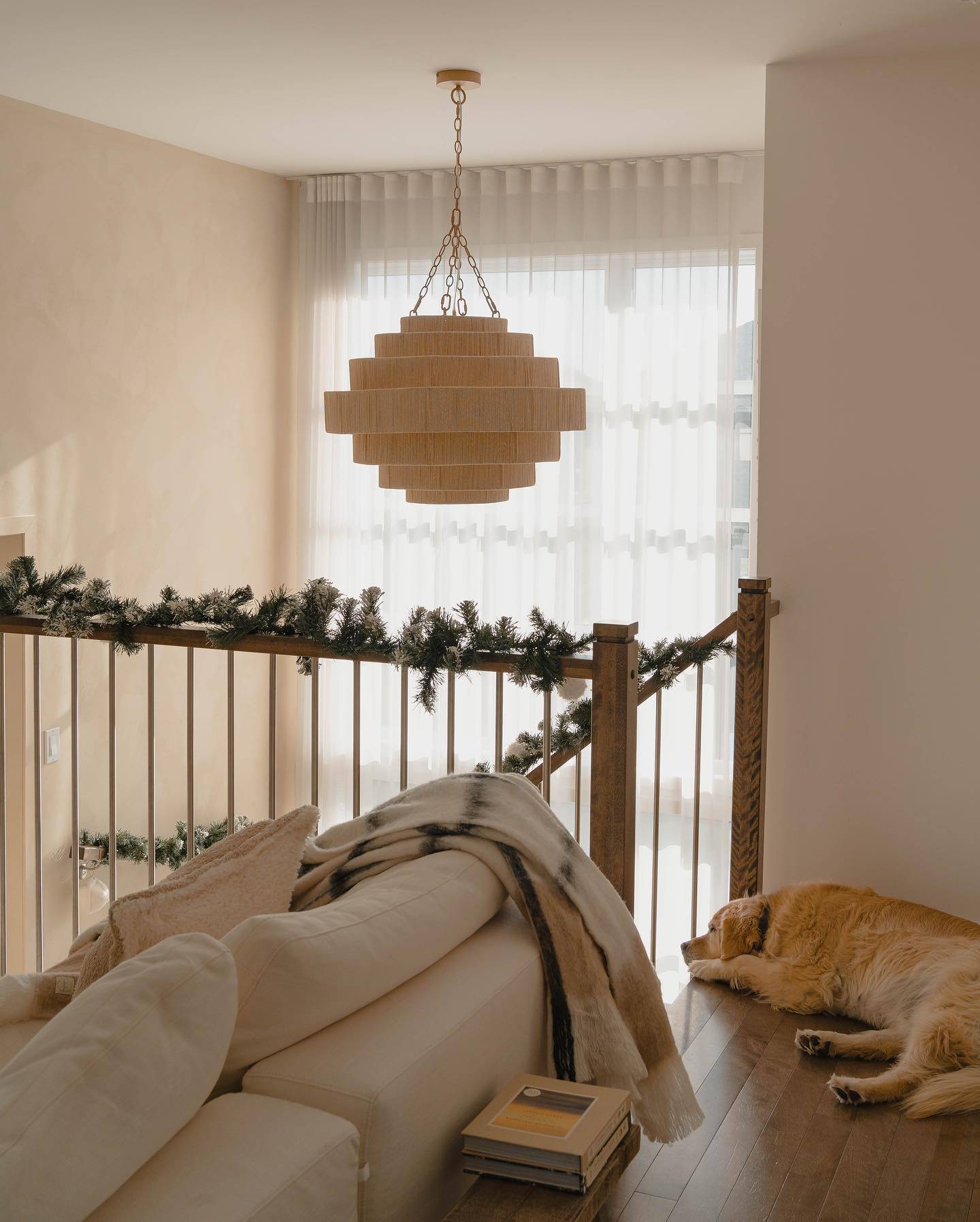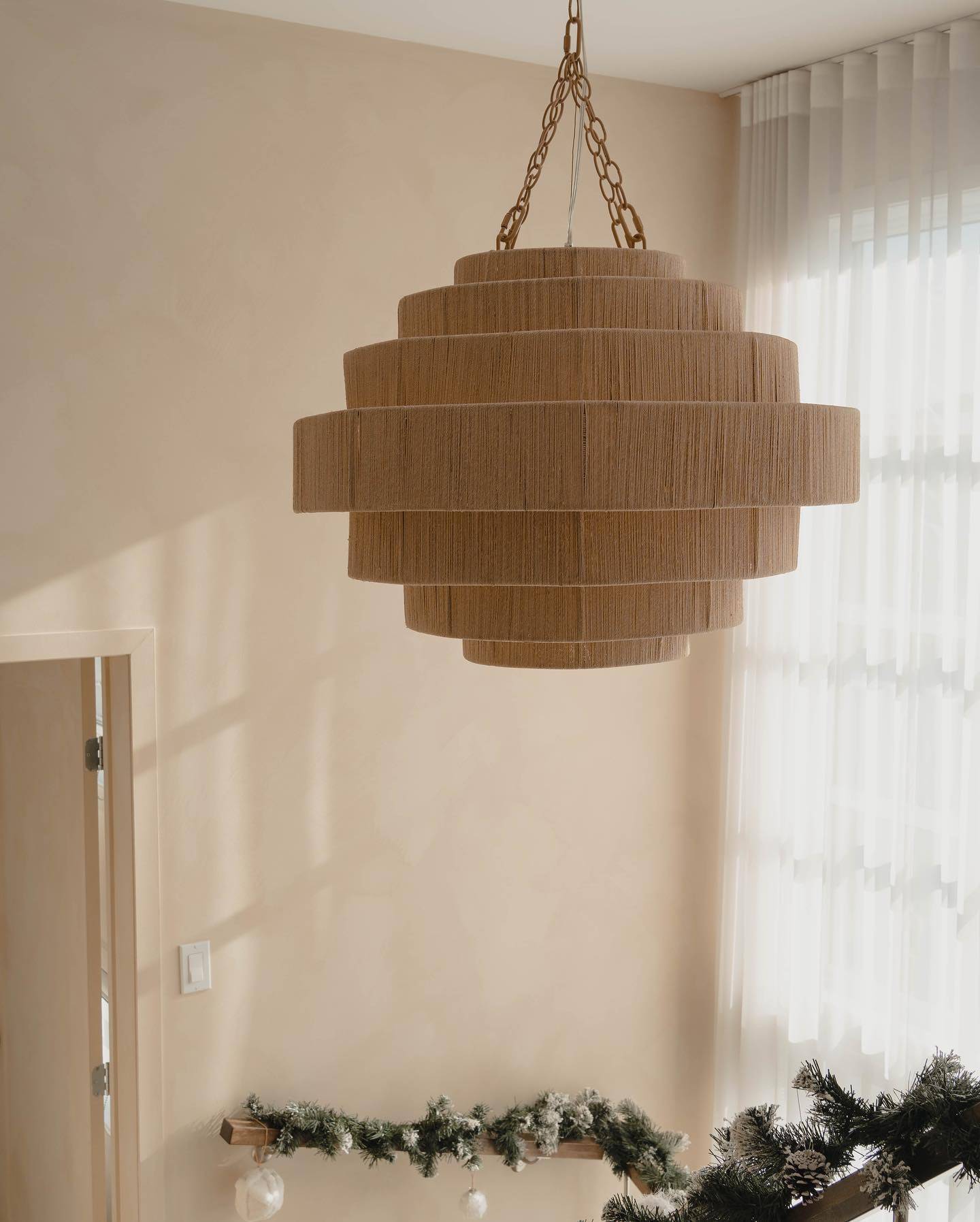 Maude wanted a chandelier in her stairway that would make you look twice. The gorgeous high ceilings left so much room for something truly beautiful. She picked our Everly Tiered Pendant by Palecek and it is an absolute showstopper.
The chandelier was the perfect choice for Maude. It has a natural elegance that brightens any space. With fine abaca rope woven over a powder coated metal frame, the Everly adds a clean natural vibe to your interior space. Additionally, it is large enough that it would fit perfectly in a large room, but also versatile so that it will not take away from the rest of the space.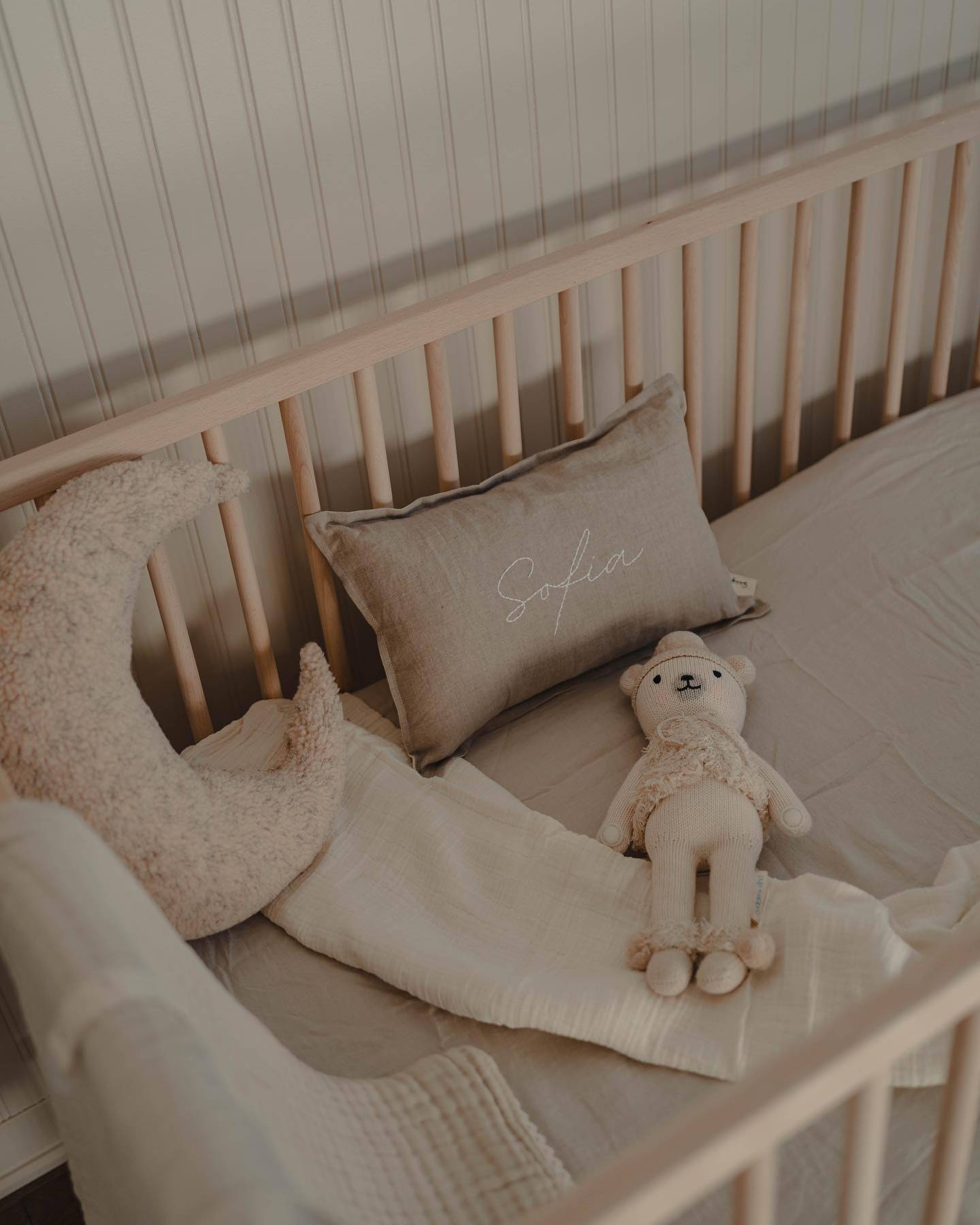 Our favourite room, a room that's been thought of for years, the nursery. This room was designed with neutrel tones so that Sofia can grow into her room while having the style remain consistent with the rest of the home. Playful decor is on display is sure to keep any little one entertained, Maude has brought her dream nursery to life.
P.S. How adorable is that little teddy bear?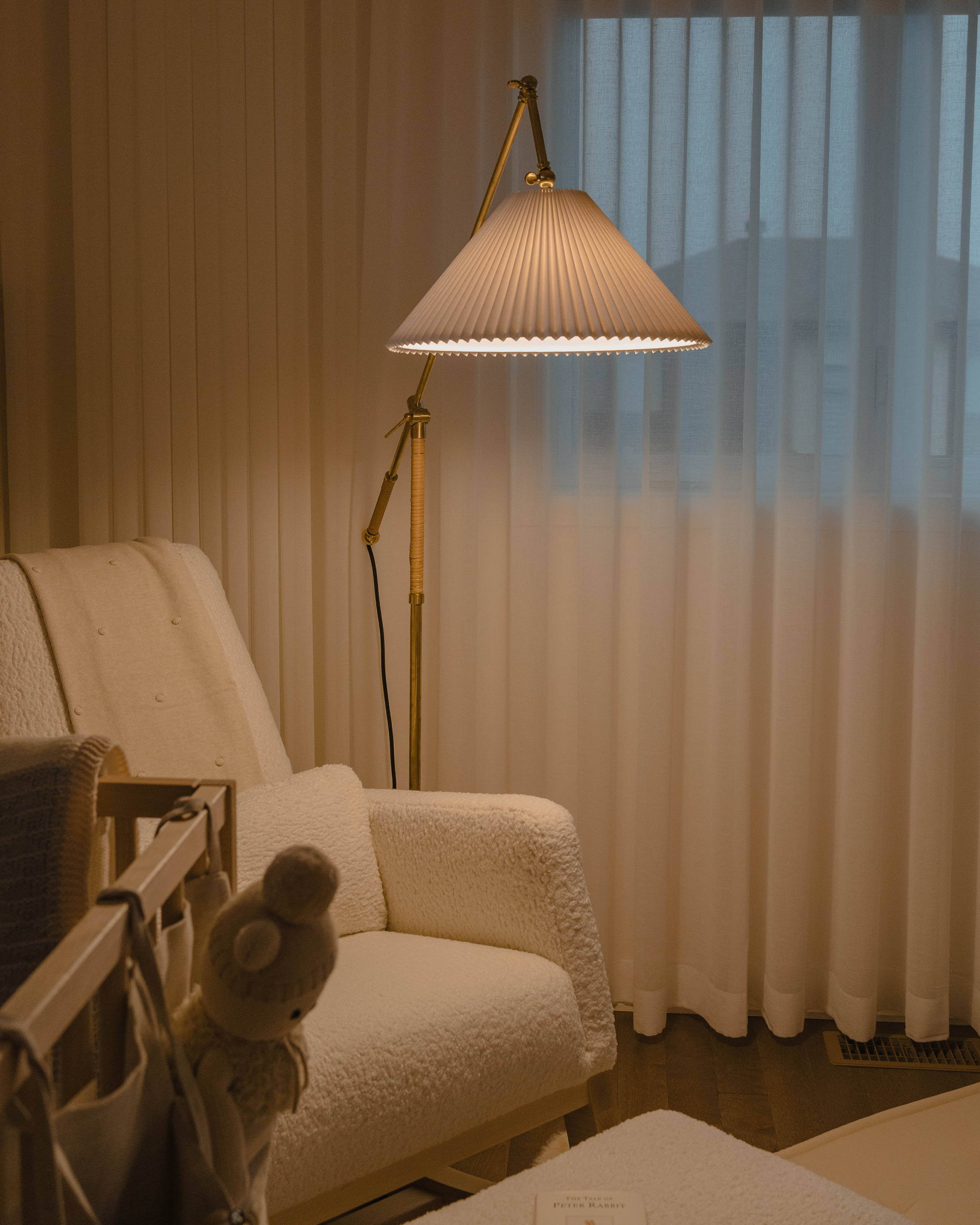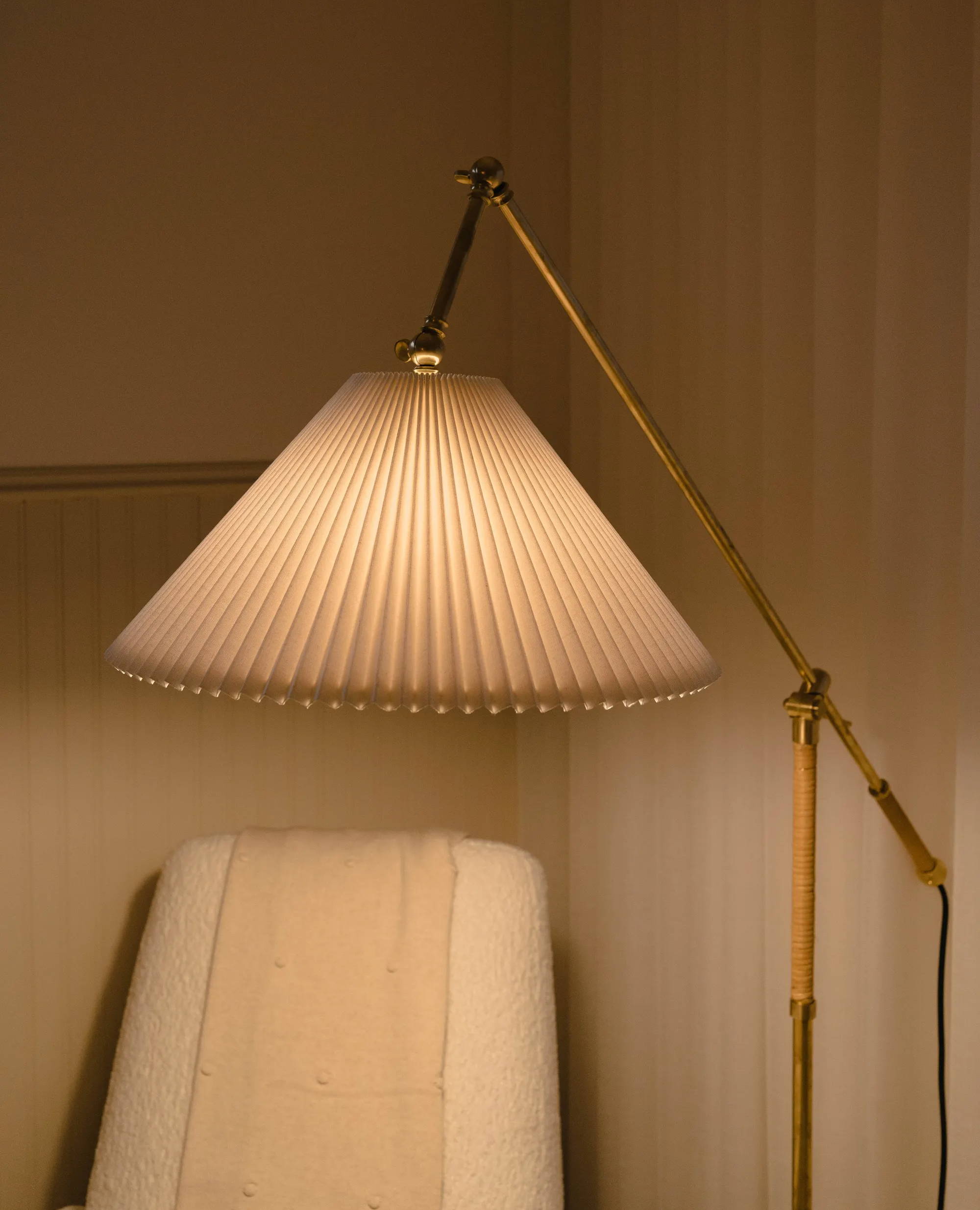 The nursery features our beautifully elegant Dorset Floor Lamp by Hudson Valley, with pretty pleated shades, wrapped rattan and brass accents. Perfect for Maude's vision a little girls room, without being over-the-top feminine.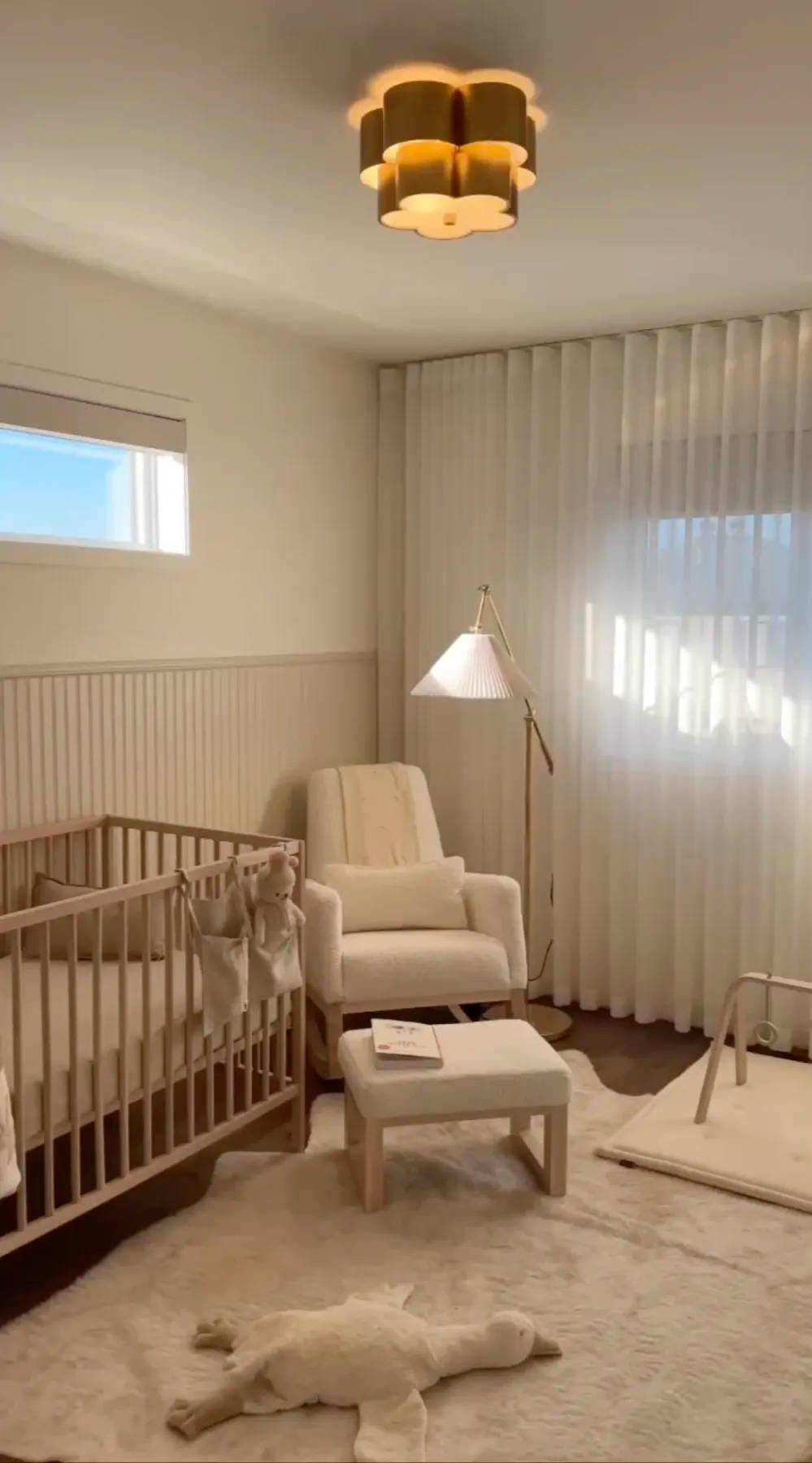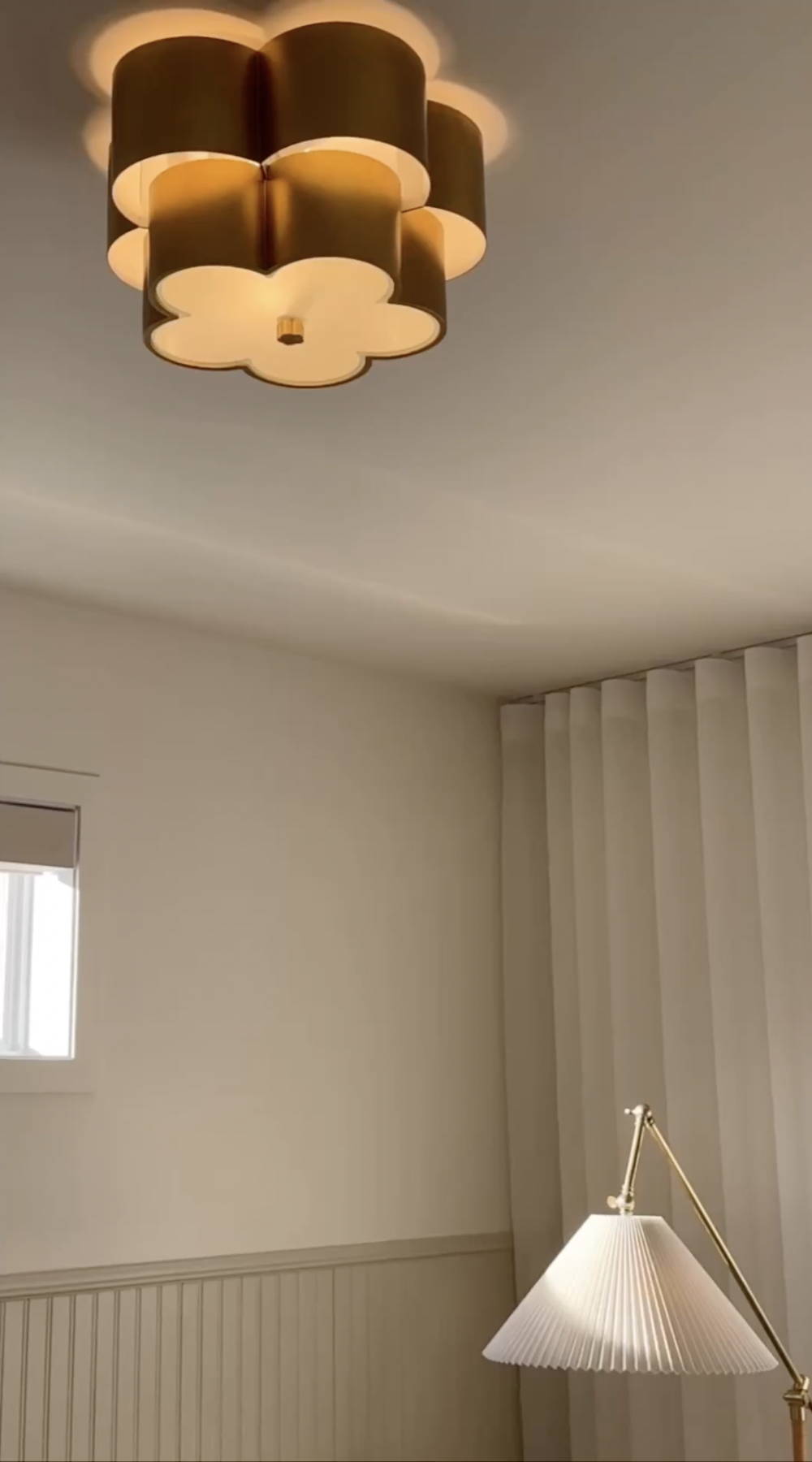 For layered lighting, Maude chose our Arabelle Flush-Mount by Visual Comfort to enhance the space with the perfect combination of form and function. Crafted in a stylized floral motif, Arabelle brings character to a room with its beautiful curving design.
She also opted for a cozy rug from Loloi Rugs. Our Grand Canyon Rug is versatile and great to add warmth and texture to the space. A perfect addition to the nursery!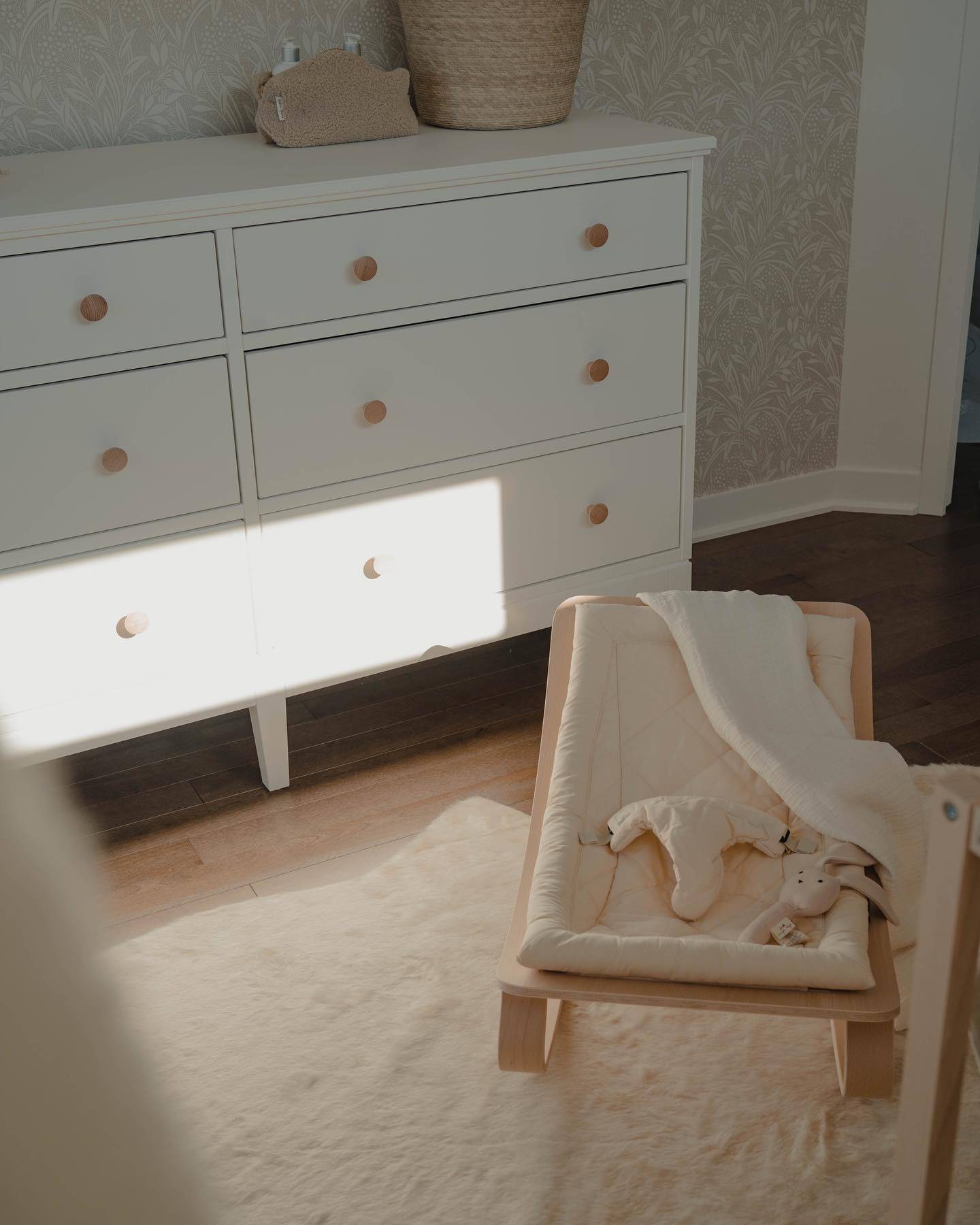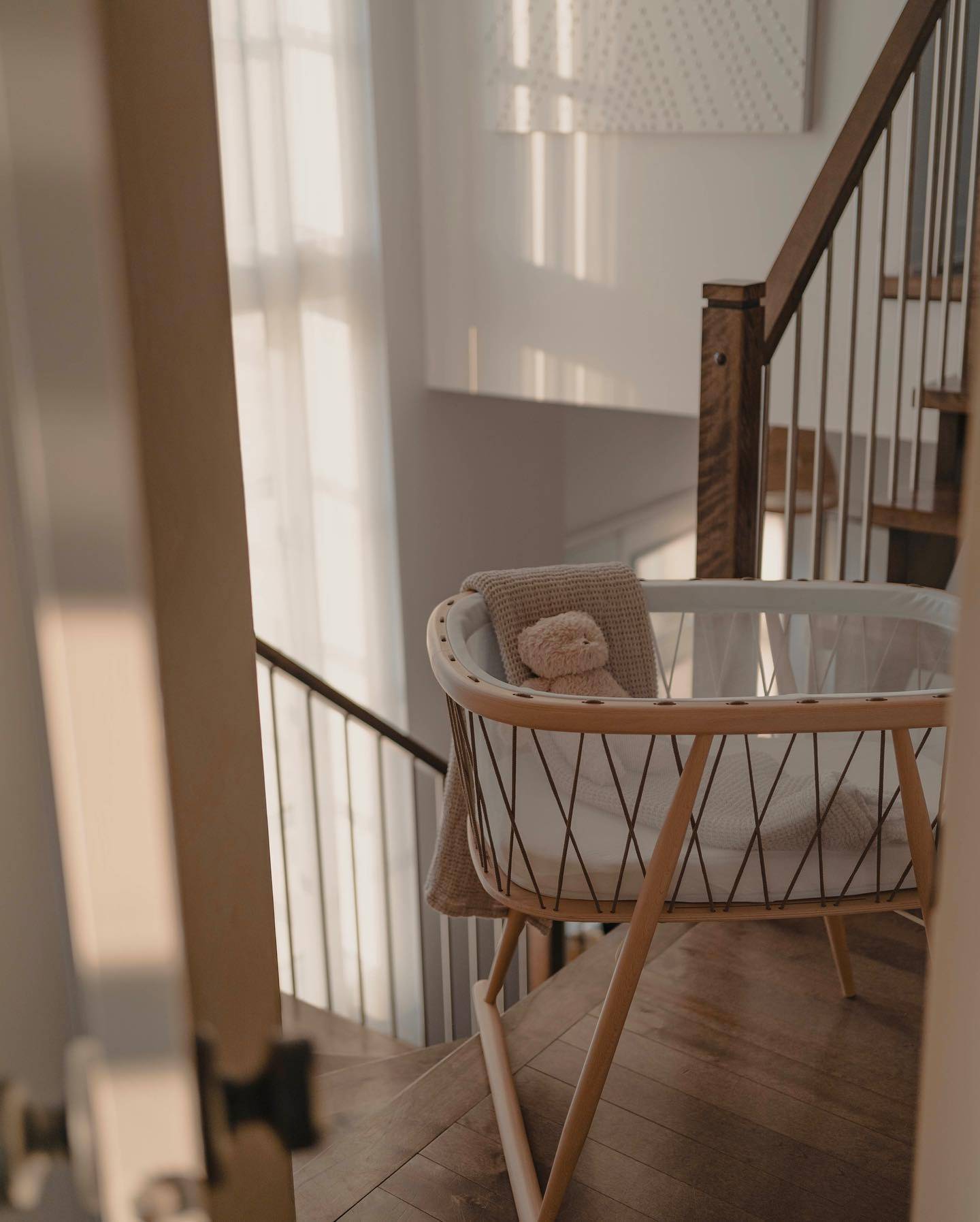 Maude says that her home has come a long way. Whether she's creating content or spending time with her family, Maude has created a functional, comfortable space. It's amazing to see what a difference a some new wall sconces, pendants and chandeliers can make in a home redesign project. We can't wait to see more from Maude!
♡CHECK OUT MORE OF MAUDE'S FAVOURITES♡
Use Code: MAUDE15 For 15% Off!
Maude Pion- IRL: Season 1

We love seeing Union in your homes!
If you are interesed in being featured on our website, we would love to showcase your style!
Contact us at creative@unionltg.com